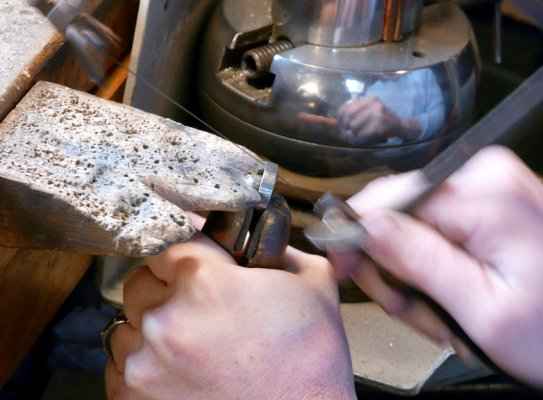 Kenneth Pillsworth

Kenneth's interest in the arts began very early on and led him to his very first jewelry apprenticeship with renowned jeweler William Scholl. Kenneth's time with William would set the precedent for his interests and expectations for this medium. It was this experience in hindsight that would lay the foundation for Kenneth's career as a jeweler.
In the fall of 1990 Kenneth attended State University of New York at New Paltz with a concentration in painting. Under the recommendation of William Scholl, Kenneth began working with Jeffrey Allen Jewelers part time while attending classes. During summer breaks Kenneth lived and worked on Martha's Vineyard.
In the summer of 1992 Kenneth began his apprenticeship with jewelers Paul D'Olympia and Richard Hamilton. It wasn't long before Kenneth made the commitment to become a jeweler himself. Kenneth's ability to take a piece of something from each mentor, has given him a well-rounded foundation from which to build his own career and ideas.
In 1996 Kenneth Pillsworth and three other jewelers formed the Edgartown Jewelers Studio. Kenneth continued to share space until 1998 when he decided to create his own studio in his home.
Kenneth's motivation stems from a strong technical background and the desire to create work that is simple and innovative. The inspiration for the layering of such unconventional materials comes from the desire to create many compositions in color, shape and texture in a simple form. The use of rivets and other cold connections serve a dual role, as both an integral design element as well as performing a simple function. Kenneth's work is constructed from a combination of assorted metals including anodized aluminum, brass, titanium, niobium, sterling silver, copper and 14K gold.
Kenneth Pillsworth's jewelry may also be found in numerous galleries and shops nationwide.