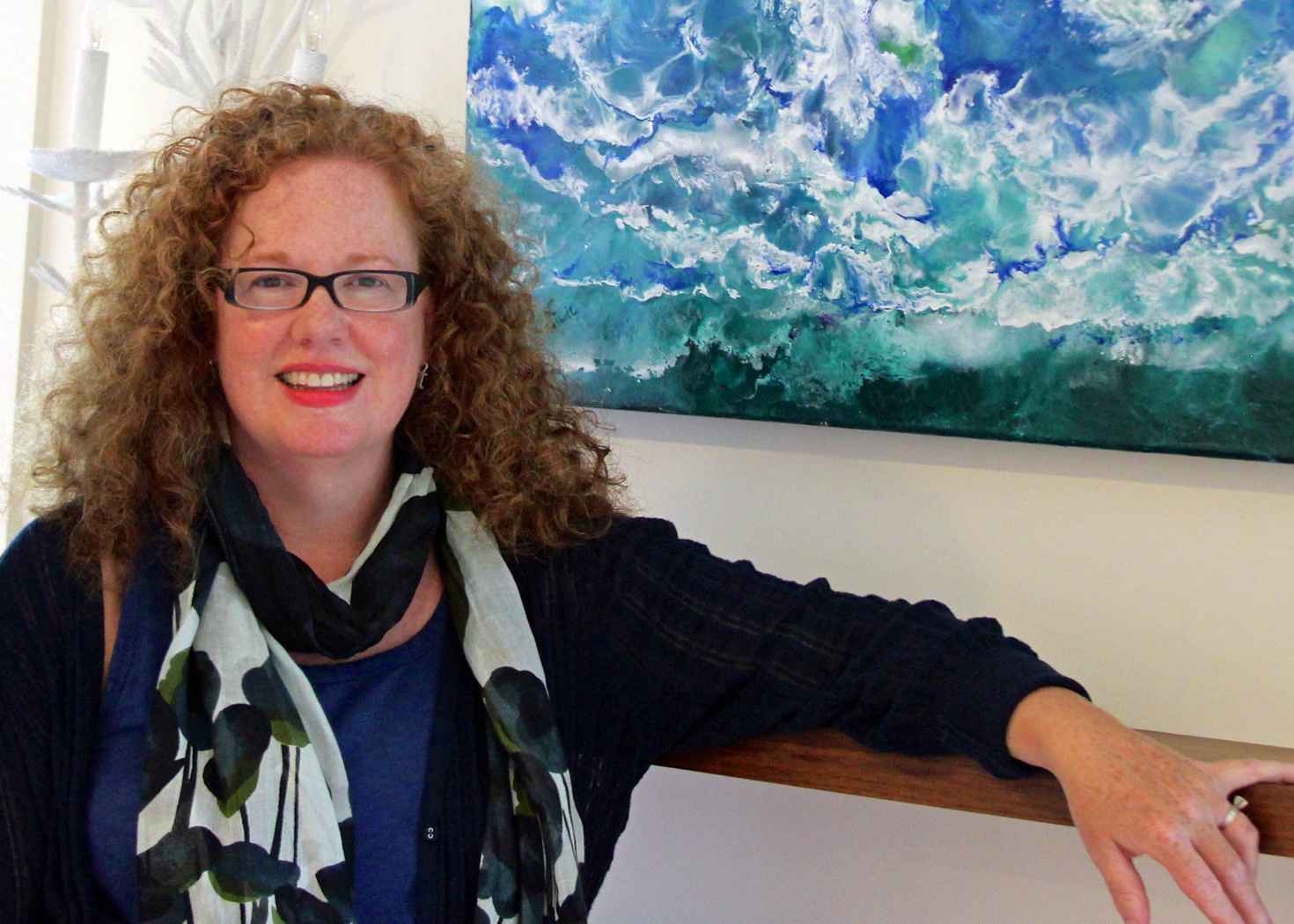 Ruth Hamill

Ruth Hamill works in oils and encaustic, often experimenting with the medium to best suit the subject at hand.  Her work is about place and derives from an obsession with bodies of water.  Ruth considers her paintings works of fiction, an extension of — but in contrast to — the rich tradition of landscape painting.
After a disciplined approach to the study and practice of traditional oil landscapes and seascapes, Ruth developed a technique using diluted oil paints poured on unprimed canvas to capture the horizon over the sea, and then adapted that process to depict mountain peaks outside her studio while in residence in Breckenridge, Colorado.  She turned to encaustic for a dynamic treatment of waves.  And she has used a combination of traditional oils, encaustic and experimental oil painting for an ongoing series of Walden Pond in autumn and the trees of New England.  Her most recent work combines encaustic and oil on canvas.  It is important to Ruth that her work is grounded in history and she aims to honor the painters who have gone before and extend their reach forward in both time and innovation.
Ruth's paintings have been juried into group shows by curators of the Institute of Contemporary Art (ICA) Boston, the Rose Art Museum (MA), Jersey City Museum, and the Nassau County Museum of Art (NJ), and the Montserrat College of Art Galleries (MA).
She was awarded the People's Choice Award at the 2009 Crane Estate Art Show, Ipswich, MA, and the Rocky Neck Art Colony (Gloucester, MA) 2014 exhibition The Perfect Storm in 2014, sharing the honor with legendary Rocky Neck artist Gordon Goetemann.
Ruth received a VSC Artist Grant to the Vermont Studio Center for residency in 2009 and was accepted into residency twice at the Tin Shop in Breckenridge, in 2009 and again in 2010.
Ruth's work is represented by Atrium Art Gallery, Charleston SC; Chicago Art Source Gallery, Chicago, IL; The Portland Art Gallery, Portland, ME; Gallery at the Grand, Kennebunkport, ME; Southport Galleries, Southport, CT; and Gallery 4, Tiverton, RI.
Ruth is an artist member of the Copley Society of Art (Boston), Cambridge Art Association (Cambridge, Mass), the National Association of Women Artists (NYC), and the Rocky Neck Art Colony (Gloucester, MA).
Ruth's education includes a minor in graphic design, for which she studied in areas that became the underpinning of her painting practice.  These included drawing courses including technical rendering, calligraphy, color, typography, along with design theory and art history.  Ruth's major was journalism with a second minor in English. She worked for 15 years in marketing PR, which included managing a large portion of the public relations side of the Milk Mustache campaign for several years.
Ruth recently moved her studio from Cape Ann, MA, to Mays Landing, NJ, following the job transfer of her husband.

Encaustic Process

The encaustic process involves wax, pigment and heat.  Encaustic is an ancient medium dating back to 800 B.C. and later used by the Egyptians for mummy tomb portraits.  Some encaustic paintings have survived 2000 years.
Ruth began working in encaustic in 2009 and developed her encaustic process during a 3-year intensive studio practice and study of the medium.  She uses the best materials available; recent innovations in these materials have allowed her to experiment to paint larger, thinner and on canvas while still maintaining the primary properties of translucency and opulence that make encaustic such a rich medium for Ruth's sea and nature themes.
Ruth's process involves heating oil paint-embedded wax on a hot palette.  As soon as her paint-laden brush leaves the palette, it begins to harden.  Each paint mark made on canvas has to be reheated to fuse to the canvas and to previous marks and layers.  In a medium-sized canvas, Ruth has laid more than a hundred layers and has fused each with either a high-heat air gun or a small iron.  This is a labor intensive, messy, hot, uncomfortable process that relies on Ruth's ability to "go with the flow" and manipulate the materials to her end.  She works on a flat easel, standing, and uses gravity as well as brushes and palate knives to help move the paint.
Traditionally, encaustic paintings are made with beeswax paints on small, hard surfaces.  Ruth uses a combination of waxes and oil paint pigments, including a small amount of beeswax.  Ruth mixes almost all of her paints herself, stretches all her own canvases, and does the framing as well.  Ruth's encaustic paintings are easily cared for by dusting with a clean, dry, cotton cloth.