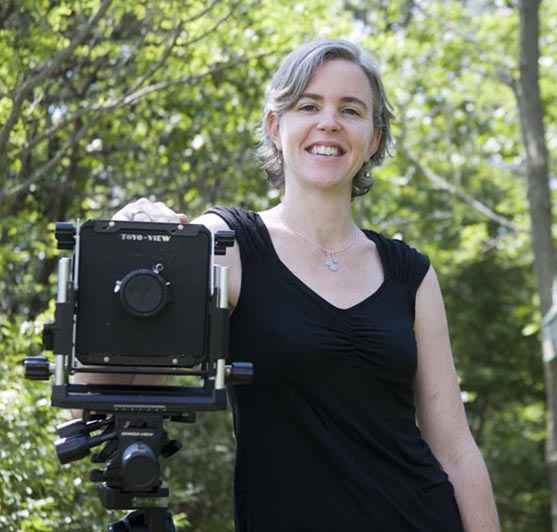 Jhenn Watts

Jhenn Watts graduated with Honors from the Massachusetts College of Art with a BFA in Photography. While at Mass Art she had the rare opportunity to work with Polaroid's notorious 20x24 camera. While working in the studio with the camera's technician, Jhenn Watts was introduced to a unique technique known as a Polaroid Emulsion Lift. Since then, she has dedicated herself to the pursuit of her artwork and for more than 20 years she shot Polaroid film exclusively.
Almost immediately, Watts made the switch from conventional Black and White Photography to images printed on glass. "I love the idea that each one of these images is a one of a kind. It is such a great oxymoron for photography. These images represent a slice in time, a memory. Like our memories, they are wrinkled and textured and seem to float freely. Glass and photography are the perfect marriage for me. My whole life I have been interested in photography, but there was always something missing for me. Glass adds luminosity and depth as well as texture and volume to my work. It enables me to achieve that feeling of dimensionality I strive for."
Jhenn has had the exceptional opportunity to work with such artists as Abelardo Morrell, Nicholas Nixon, and Laura McPhee. Her thirst for knowledge and experience in glass drew her to the Vineyard to work with members of the Martha's Vineyard Glassworks.
In 2008, Polaroid discontinued its film manufacturing department. This forced Jhenn Watts to search for an alternative medium. Feeling compelled to stay true to her analog film roots, she started working with Fuji transparency film.
Jhenn Watts's work focuses primarily on landscapes and the textural surroundings that make up her island home. She has been living and creating work on Martha's Vineyard for over 20 years.
Jhenn's artwork has been exhibited extensively on Martha's Vineyard as well as throughout New England and she is in private collections both nationally and internationally.
Transparency Film

I studied photography at The Massachusetts College of Art and Design with Nicholas Nixon and Abelardo Morrell. Both photographers stress the fundamental integrity of the film negative as the basis for the power of a print to capture reality.  This early background set my concentration and commitment to analog photography. I love the idea of film, its tactile quality, and the idea that the photograph becomes an object in the process.
  For the last twenty years I've worked exclusively with Polaroid film, a truly unique product that is unlike anything on the market today.  I created images using an emulsion lift technique that used the attributes of the Polaroid film to create one-of-a-kind images on glass.  But in 2008 Polaroid stopped making Polaroid film and I had to make a switch from my favored medium. I toyed with the idea of shooting digitally, but it just didn't feel right for me.  With digital photography we can doctor the image and change the surroundings, the color, add and remove elements. I wanted to stick with film and the challenge to create an actual documentation, unaltered.
  I began using 4x5 transparency film to capture images, almost like a slice of a moment in time.  For me the film becomes the proof - proof that a landscape existed, for a fleeting moment maybe, but it existed all the same. Using a large format camera and analog film I can create an image that is intimate for the viewer, but still large enough to stand on its own.  My process has evolved from the emulsion lift process to using transparency film (slide film) on glass. The transparency film becomes a unique image, like a monoprint or a painting. 
What I am doing with the film is certainly not what it is intended for.  Transparency film is used to document and preserve images, often images of paintings, or other works of art.  Transparency film is manufactured to have the closest, most saturated true colors available, and to be viewed with an artificial light source (backlit). It is extremely sensitive to exposure, needing to be kept in dark storage, but is very precise. Any F-stop fluctuations, even as small as 1/6 of a stop, become very apparent because the film is so sensitive.  This makes exposing the film tricky and time consuming, but I like the challenge it poses. It forces me to be out shooting to constantly produce new work.